Rain Barrels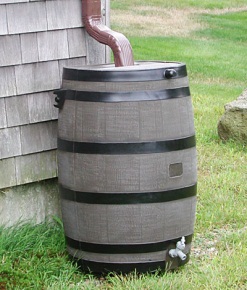 Along with green roofs and rain gardens, rain barrels are great and simple way to reduce storm runoff, which contributes to
stream and lake degredation
. Rain barrels can also be configured to be used as a water source for your garden plants, reducing use of municipal water.
Rain barrels are large barrels which are easily connected to your gutter downspout to collect water which runs off your roof. If the main goal is to reduce runoff then simply drilling a few small holes in the barrel will allow the water slowly seep into the ground, recharging ground water instead of running off into the storm sewer.
On the other hand, if you want to collect water for use in your garden, then there are several options of varying complexity available. The simplest solution is to transfer the water by hand (watering can) to your plants. This becomes less practical as the size of the area you want to water increases. To direct the water to a specific area (such as a specific tree or several trees) gravity fed hoses can be connected to the barrel and burried in ground. Just remember that water flows DOWN, so the destination needs to be lower that the source. To control timing the watering and directing the flow to various locations, a series of check valves can be installed in the lines. This becomes increasingly complex as the number of locations is increased.
Connecting a standard garden hose to the barrel is also an option. The hose can be moved around by hand, but obviously the water will flow more slowly than water from a spigot, as it is not highly pressurized. Larger tanks are also available, with the option of adding a small pump to distrubute the water.



Plastic rain barrels are usually the least expensive type, and come in a variety of colors and styles. They can also be custom painted with Krylon fusion paint. Wooden rain barrels are also available as another option for blending into a natural landscape. Wooden fencing, stone, or shrubs can also be used to effectively hide a rain barrel or make it less conspicuous.
Another design option is replacing your downspouts with an ornamental rain chain - the water will "stick" to a chain hanging from your gutter and be directed into the barrel.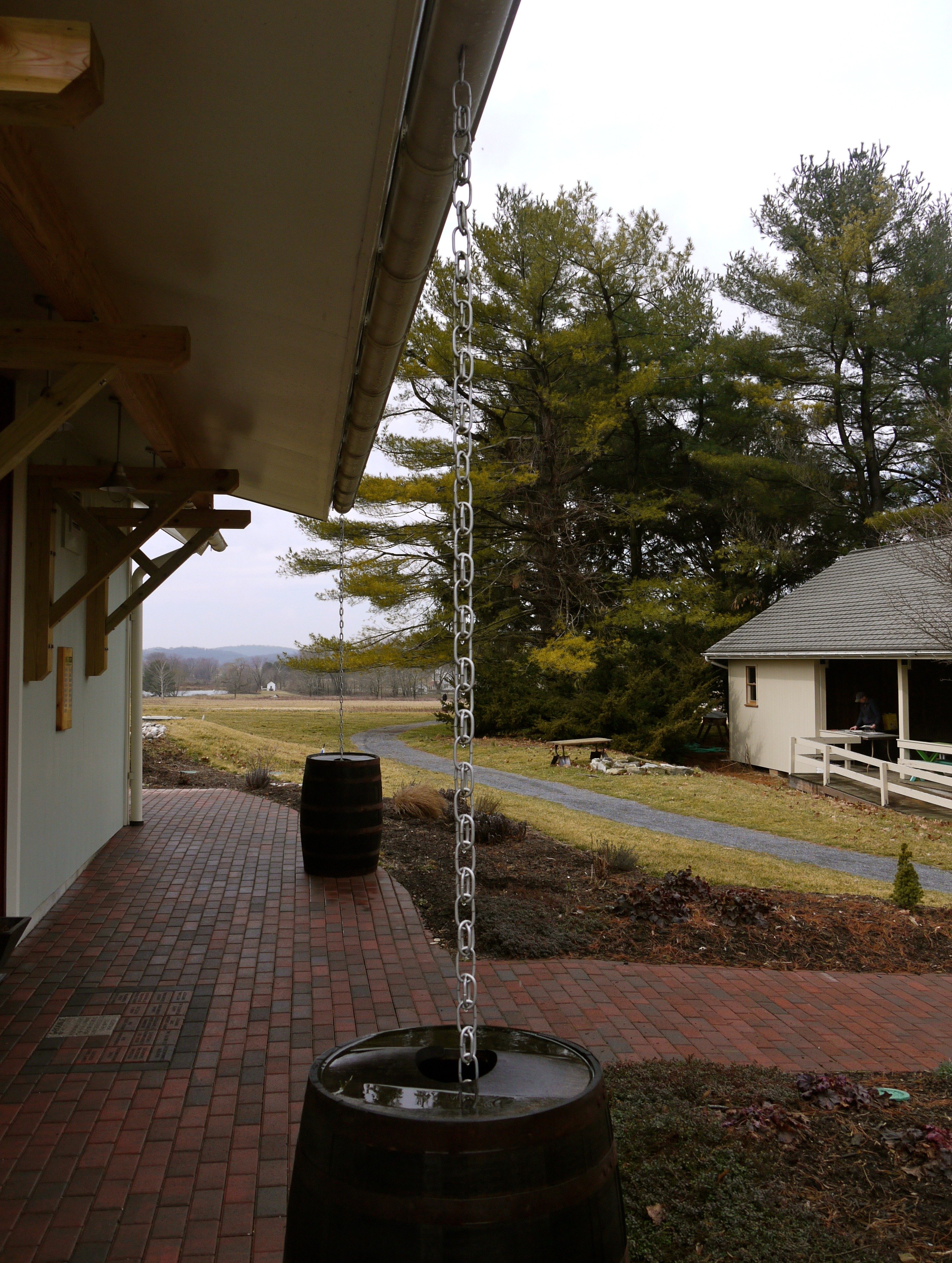 Besides being good for watering plants, collected rain water is also recommended as a final rinse in your car wash, as it is virtually free of dissolved minerals such as lime (calcium and magnesium), salts, and chlorine.


---
FernCreek Design * Olivebridge, NY 12461
(845) 657 - 0324 * info@ferncreekDB.com
.
Serving most points within Ulster County including Samsonville, Palentown, Krumville, Tabasco, Kerhonkson, Lyonsville, Stone Ridge, High Falls, Alligerville, Accord, Cherrytown, Naopnach, Ellenville, New Paltz, Gardiner, Rosendale, Tillson, Rifton, Esopus, Ulster Park, Kingston, Mt Tremper, Phoenecia, Chichester, Lanesville, Shandaken, Willow, Lake Hill, Shady, Bearsville, Woodstock, West Hurley, and Hurley. See Service Area Map to confirm service to your location.